With all that is going on and everyone talking about cleaning and sanitizing, we wat to bring some tips about Spring Cleaning, the pressure to get tidy may have you worry, panic and biting your nails. Wondering, where the heck do I even begin?
If that sounds familiar, then LISTEN UP.
We have a helpful how-to on how to prepare for spring cleaning as well as get you motivated to accomplish your dust duties and clean out those "dark places" you've been avoiding. After all, you should save the worrying for more important things, like start planning your summer vacation to the Caribbean?
Tips to Spring Clean Your Apartment
1. Have a plan in place
To reduce the amount of chaos going on in the rest of your apartments, draft out a simple plan on paper. Think about which room needs your attention first. When do you expect to have your spring cleaning complete?
If you aren't sure where to begin, you can follow the schedule below and get in the Spring Mood!!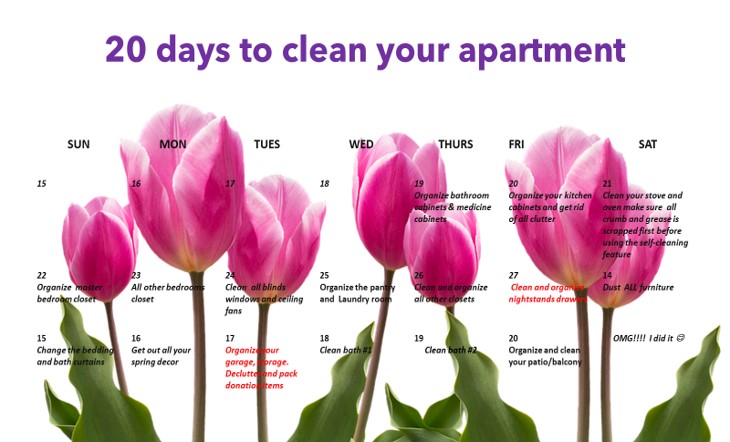 2. Schedule a time to start your cleaning
Just like having a plan, you want to mark off your cleaning days with a time to start and stop. Put it on the calendar. Having a scheduled time to start your clean will help keep you on track.
3. Declutter, declutter, declutter
When it comes to decluttering, try donating what you don't need rather than throwing it out. Donating to others is always a good feeling. Imagine your apartment sparkling clean and driving off with a box of items to donate to those in need. It's a great feeling!
The adage is true if you don't love it, if you haven't used it in over a year, or if it doesn't make you smile get rid of it and donate to Our local donation center!
Quick Tip: "The process of giving will only serve to open your world in ways you could not even begin to imagine and you will feel a lot better than before you actually proffered that help in the first place." Adam Richards, Habits
4. Get organized
It's much easier to give your apartment a deep clean if your things are already put away. It's the perfect time to implement a place for everything, and everything in its place. The best way to remain organized is to allot certain hours of day, the de-cluttering and cleaning up it doesn't have to be for a long time, 15 to 30 minutes a day is enough.
Quick Tip: Grab 3 bins: one for things to throw away, put away, and donations.
5. Check your cleaning supplies
The last thing you want when you are ready to clean is to realize you are out of furniture polish! Check your and Supply make a list of all of the items you need to pick up the next time you go out
6. Make yourself a new playlist
Create a fun channel on Pandora or playlist with your favorite music streaming service. Music is a great way to stay motivated and can make tedious obligations like cleaning fun. Pretend the mop is a microphone and belt out P!nk as you make those kitchen floors shine.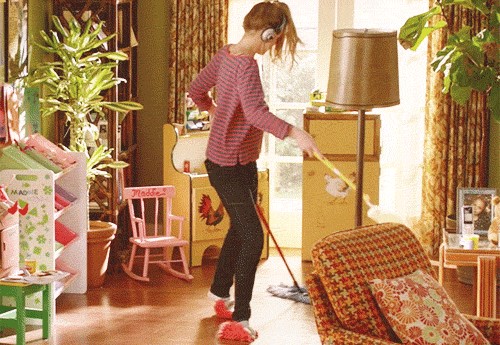 7. Have your favorite quick snacks and beverages ready
Are you a coffee lover? Then start by making a fresh pot before tackling the cleaning. Fill your water bottle with fresh cold water and stay hydrated! Have your favorite quick meals or snacks on hand as well. If you aren't hydrated and eating throughout the day, you will run out of energy before you can reach your goals.
8. Time to Start Spring Cleaning
Now you are ready to start your spring-cleaning journey! Best of luck and remember to have fun.