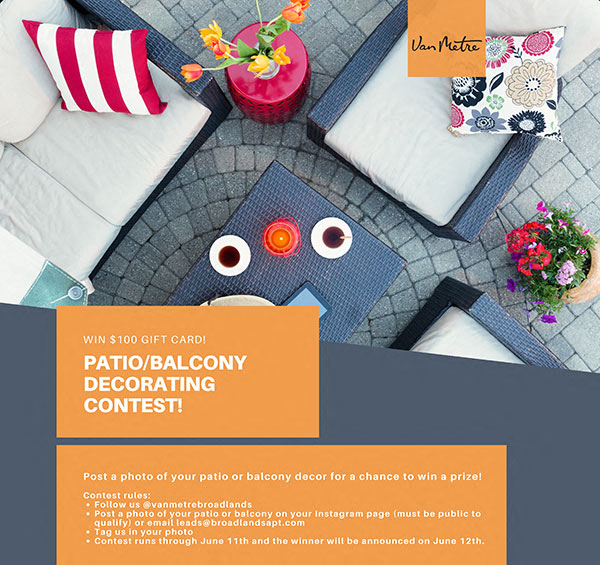 May is here! And of course, with May comes warmer weather and beautiful flowers. By now you already completed your spring cleaning and your patio or balcony it is ready!
Patios and balconies do not get much love during the colder months, so we decided to dedicate this post to balcony cleaning tips and décor.
Find out how to get rid of rust and moss, left behind on your balcony/patio as well as how to decorate for spring without breaking the bank + win $100 Gift Card in our Patio Decor Contest!
1.Rust Removal from Balcony or Patio
Even if you don't have metal patio furniture, you may still find rust on the metal parts of plastic furniture and on your railings. If not cleaned off, it can stain your clothes and drip off onto the balcony floor. It can also be potentially harmful to children and pets so it's best to get rid of it.
Move everything off the patio so that you can sweep the floor for any dirt or leaves. Next, grab a hose or a bucket and really wash away all the dirt buildup from the winter. Don't forget to give the screen door a good rinse.
The easiest way to remove rust is simply with a rag and water. Get a bucket of water and lightly dip the rag and scrub away the rusted areas. You can also swap the rag or use it in combination with a wire brush if you need something stronger to scrub with. After cleaning, wipe off the areas with a dry rag.
You can also mix baking soda with water to create a cleaning paste. Spread the paste on the rusted surfaces and gently scrub with a rag or wire brush. Let the mixture sit for 5-10 Minutes and then wipe it off with some clean water, and then again with a dry rag.
Lastly, the lemon and salt technique is another way to tackle those rusted stains. All you need to do is squeeze the juice of a lemon into a bowl, add some salt and apply the mixture over the rust. Then, scrub with a rag until the rust comes off. Wipe off with clean water and then again with a dry rag.
2. Moss Clean-up
Moss thrives in dark and moist environments, especially during cool weather. If not removed, it could cause surface decay. It is also slippery, which can pose a safety hazard, so it needs to go.
Household Supplies, there are many products in our home that can be used to control or kill moss like bleach and ammonia. While these are common products used throughout the household, we highly recommend diluting these products with water when using them outdoors where they can leach into the soil. The chemicals can alter the pH in your soil and cause an adverse response from your plants, and if it makes you feel more comfortable, we recommend using a Bio-degradable soap diluting with water for outside.
There are several chemical products you could buy to kill moss growing on your balcony, but the most natural way to remove its traces is to use white vinegar.
Here's how to do such:
Step 1: Pour white vinegar directly on the moss and let it sit for 30 minutes.
Step 2: Rinse the vinegar and moss off with a hose or wipe with a wet rag.
Step 3: Use a dry towel/rag to dry.

3-What About the Cushions?
If you have patio furniture with cushions, those pretty, patterned pillows tend to wear over time too and collect dirt. Here's how to get them looking fresh this season too.
Step 1: Combine 1 quart of warm water, 1 teaspoon dishwashing soap (like Dawn), and 1 tablespoon Borax in a bucket.
Step 2: Dip a sponge in the solution, then use it to scrub the cushions on all sides.
Step 3: Let the solution soak in for 15 minutes and then rinse with a hose or in your bathtub/shower. Just make sure you clean your bathtub afterward.
You may also want to take this opportunity to redecorate your patio or balcony, with the new normal and social distancing many are working from home. If you really want to get creative, you can always add some flowers for color and decoration. A cleaned balcony is a great way to welcome in the new season while providing yourself with a relaxing environment to listen to the birds ,watch the trees and flowers bloom while you work from your new beautiful space.
4-Here are some little chair ideas for your little balcony:
• Folding chairs: The ones you'll find at IKEA range from $9.99 to $29.99, and are both little and portable.
• A little loveseat: Loveseats can be perfect for small balconies, and extra cozy when there's a need to squeeze three people in. Just be sure to check the measurements before buying to ensure it'll fit!
• A small bench: A bench is similar to a loveseat in that you can squeeze more people on it if you need to. The benefit to benches – they're typically less bulky and expensive, and the options are endless – like traditional wood, reclaimed rustic wood, or vintage chic.
5. Add some greenery for an added breath of fresh air
There's nothing that makes a space feel more fresh, calm and relaxing than beautiful greenery or potted plants. The type of plants to add to your balcony depends on how much space you have or want to allocate to them. Here are some options:
• A vertical garden – Square feet taken? Zero. There are tons of hacks for this – check out some here.
• Herbs – Why not grow a little herb garden on your balcony? Here's a balcony herb garden guide to help you out.
• English Ivy (or another outdoor climbing plant) – A great way to add color and décor to your space using plants is to look into outdoor climbing plants and choose one you love. They work well with a bare wall or along a balcony railing. And bonus, they add privacy!
• Potted plants – Whether you hang them or place them on your balcony floor, many potted plants are simple to care for and are perfect for adding more color to your space.
6. Don't forget about the bells and whistles
Once you have key elements and pieces of furniture added to your little balcony, you can add in the bells and whistles to make it truly a dreamy oasis.
Here are some ideas to inspire you:
• Candles – for just the right mood lighting
• Pillows – to accompany any kind of seating
• Blankets – faux sheepskin is always encouraged
• A basket – to hold blankets and pillows
• A mini BBQ – because yum! Plus, there are lots of little grill options (Electrical grill only)
• An ice bucket – fill it with ice before you head outside to keep your drinks cool
• An umbrella – to protect yourself from the sun
There you have it, all the small balcony decoration ideas that you could need to turn your apartment balcony into a can't-wait-to-get-out-there space. We have a feeling this will no longer be the least used area of your home.